Watch Video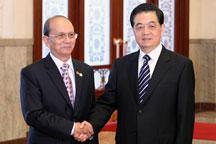 Play Video
Myanmar President, U Thein Sein, has ended his three-day state visit to China, his first official visit since taking office in March. Thein Sein held talks with Chinese President Hu Jintao, witnessing the signing of a series of economic agreements.
A new page in China-Myanmar relations.
President U Thein Sein's three day visit to China saw great efforts being made to boost bilateral ties.
China and Myanmar are said to have upgraded their relationship, to what is now a comprehensive strategic cooperative partnership. It's the latest sign that ties between the two neighbors are blossoming.
Under the partnership, the two countries will maintain close high-level contacts, with both political and economic cooperation.
During talks with President Hu Jintao, both leaders stressed their commitment to push the relationship further, and to increase mutual understanding.
On trade, President Hu called for improvements in the planning and coordination of economic cooperation.
Nine economic agreements worth more than 7-million US dollars were signed during the talks.
They include a cooperation framework agreement for 745-million US dollars of credit from the China Development Bank, to Myanmar's Ministry of Taxation and Finance.
President Thein Sein also met with other senior Chinese leaders, including Premier Wen Jiabao.
Wen said China would continue assisting Myanmar's economic development, and ensure the "smooth progress" of oil and gas pipelines being built between Myanmar and southwest China.
China remains Myanmar's most important diplomatic ally, while trade links are also strong.
Chinese companies have invested billions of dollars in the country, mostly in energy and raw material projects.
Experts say the relationship has a bright future, amid the challenges of a rapidly changing world.
Editor:Zhang Pengfei |Source: CNTV.CN