Watch Video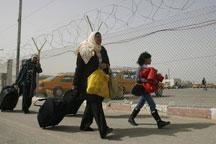 Play Video
Egypt opened its Rafah border crossing to the Gaza Strip last weekend following a four year land and sea blockade imposed on Palestinians by Israel and the former Egyptian political regime.
As our correspondent Stephanie Freid reports, residents of Gaza are glad to be gaining freedom of movement to go beyond their borders.
It was a happy day for Gaza's one and a half million residents Restrictions that kept many within the confines of the narrow Strip were lifted, allowing travel to neighboring Egypt
Resident, Gaza, said, "I'm so happy. Very happy today."
People came through in groups and by the busload, some were leaving the Palestinian enclave for the first time.
Ibrahim Gaza Resident, said, "Ive never been outside of Gaza. This is a good day for me. It is my first time."
Gaza's Palestinians were affected by Israeli and Egyptian imposed bloackades set four years ago. The blockade, meant to keep weapons from being smuggled from Egypt, also kept out food and building supplies needed for their economic livelihood and restricted travel. But recent dramatic political shifts in Egypt and reconciliation between Palestinian leaders prompted a border restriction ease. More Gazans are now free to leave their land and sea locked homes. This is the entry point
Stephanie Freid, Rafah, said, "There is a sense of cheer and the mood is upbeat as people come through from the Gaza. They will go inside here and go through security and then go through processing."
They go through security here and then on to the waiting hall.
Stephanie Freid, Rafah, said, " As you can see, it's buzzing here behind me. Many more people arrived here today than usual and officials say that number is likely to continue to grow."
Once through, they're in Egypt. For some, travel beyond home borders is a completely novel experience. For others, it's a chance to reunite with loved ones.
Gazan Resident, Egypt, said, " I haven't seen my four wives and 25 children for two years. I am going to Cairo."
Triple the usual number of Palestinians came through the crossing on opening day and officials estimate that number will remain high as Gazans venture beyond their borders.
Related stories
Editor:Zhang Pengfei |Source: CNTV.CN