Watch Video
Play Video
Officials in the tornado ravaged city of Joplin have raised the death toll to 139, and at least 100 are still missing. Families face an agonizing period waiting for loved ones while rescue workers continue to sift through the wreckage of their homes, streets and businesses.
The city has become inundated with thousands of volunteers who's activities will be suspended for a day during the visit of President Obama.
They've come from miles around. Volunteers, people who just want to help. There are thousands of them.
Jimmy Harman is one. He's a firefighter from the neighboring state of Arkansas. He came with his family within hours to pull out survivors from the wreckage
In this location, a nursing home, he helped rescue an elderly lady after someone saw her hand sticking out of the rubble.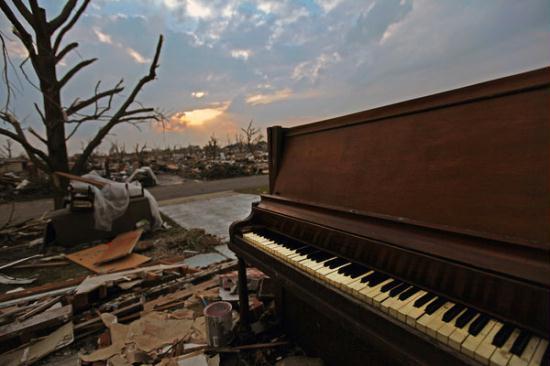 May 28, 2011, Joplin, Missouri, USA: Few personal items and children toys have been recovered while most items were scattered across the State after a massive EF5 tornado that was packing winds of over 200 mph, killed well over 130 people, injuring over 800, and leaving over 100 missing and or unaccounted for.. Credit: Robert King / Polaris
Jimmy Harman, Volunteer, said, "She was completely covered up in debris, not too far from here. Luck, shear luck. Everything around here was demolished."
Now he's returned to the site to see if any more can be found.
Jimmy Harman, Volunteer, said, "I would like to think that there's somebody under here who's alive. But we'll never know until we actually start digging down."
Before the tornado this is what the nursing home looked like. And for the families of those who are still missing, there's almost nothing recognizable about this scene.
Clinton Finley, Resident, said, "I'm looking for my missing grandmother, who's been gone since Monday. She was a resident of Greenbriar Nursing Home which is what I'm sitting on right now, what's left of it."
Since he was six months old, Clinton Finley was brought up by his grandmother Ida.
The family was told that she was taken out of here alive and put in an ambulance. But they've called hospitals in seven states…and nothing.
Clinton Finley, Resident, said, "You just can't give up. If you give up then the tornado wins. And it's not going to win."
After more searching the group was eventually given some mechanical help.
Clinton Finley, Resident, said, "It's about damn time! That's what I think about it."
But no sign of Ida or her belongings.
Mr. Mulane's frustrations reflect many of those still searching for their loved ones. But the overall picture is of a community pulling together during a time of profound tragedy.
Editor:Zhang Pengfei |Source: CNTV.CN