Watch Video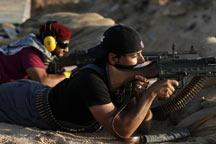 Play Video
Three and a half months into the Libyan crisis, a stubborn stalemate persists, even as both the government and opposition continue to seek solutions.
Five Libyan officials, including the heads of the Foreign Affairs Ministry and Customs Bureau, as well as a Representative to the Arab League, have reportedly carried their diplomatic efforts across the border with neighboring Tunisia.
Amid escalating NATO bombings, Muammar Gaddafi's administration is increasingly turning to the African Union for support. The AU is calling for an outright end to the air strikes.
In Benghazi, the opposition insists the national leader's departure is the only way out. The rebels have been buoyed, after Russia signaled a shift in its position at last week's G8 Summit. Officials in Tripoli say they're now in contact with Moscow, to better understand the Russian stance.
Latest dev't in Libya:
Rebel: Libya will not resume oil production

The Libyan rebels' finance minister has announced that the oil fields located in the eastern half of the country under opposition control will not resume production until it is safe to send workers to the fields. Full story >>
Libya rebel cadets graduate from training

The latest recruits to Libya's rebel forces in Benghazi have graduated from their basic training. The new army, navy and air-force cadets paraded in front of top military commanders. Full story >>
People's life in Libya:
Blackout and shelling cause distress to people in Western Mountains

Forces loyal to Muammar Gaddafi have cut electricity supplies to much of the Western Mountains, threatening water supplies and stepping up a war of attrition with rebels who hold the plateau. Full story >>
Insight:
Reporting from Moscow: Shift in Russian
position on Libya
What's behind Russia's latest move, as well as the shift in its position on the situation in Libya?
Studio discussion: Prediction on outcome
from Zuma's mediation in Libya
Zuma's previous visit made little progress because Gaddafi refused to relinquish power while rebel leaders say that is a pre-condition for any truce deal. Can you predict the outcome of the second mediation?
Editor:Xiong Qu |Source: CNTV.CN