Watch Video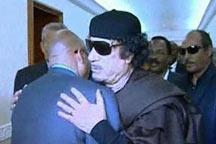 Play Video
Libyan government spokesman, Moussa Ibrahim, has confirmed that no exit strategy was discussed during Tuesday's crisis talks between Gaddafi and Zuma.
At least four NATO strikes hit Tripoli on Tuesday, but no casualties were reported. Zuma said Gaddafi is adamant to stay in Libya. Meanwhile, concerns are growing at the UN as the country doesn't seem to be any closer to a ceasefire.
Lynn Pascoe, Under-Secretary-General of UN for Political Affairs said "The parties in Libya remain far apart on even beginning negotiations to resolve the conflict. The Libyan government has repeatedly called for a ceasefire, including an end to NATO operations as a prerequisite to negotiations. For its part the TNC (Transitional National Council) maintains that negotiations on a ceasefire on related aspects can only start with the removal from power of Colonel Gaddafi and members of his family. And the withdrawal of the Libyan army from cities forcibly occupied after the outbreak of hostilities."
Related stories
Editor:Xiong Qu |Source: CNTV.CN