Watch Video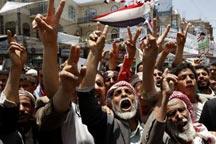 Play Video
Street fighting has raged in Yemen's capital Sanaa, ending a tenuous ceasefire between tribal groups and security forces. The latest violence has once again raised concerns that the country's political crisis could escalate into civil war. 
Government troops attacked the heavily guarded home of Sheik Sadeq al-Ahmar, who heads Yemen's most powerful tribal confederation.
Al-Ahmar's armed followers fought back and reoccupied several government buildings they had seized in the first round of fighting last week.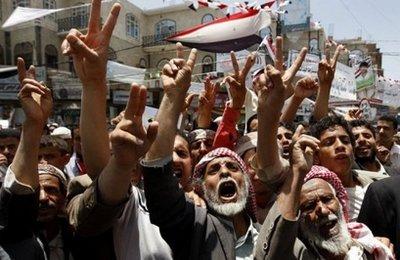 Yemeni anti-government protesters are seen at a demonstration demanding
the ouster of President Ali Abdullah Saleh in Sanaa on May 30, 2011.
Fierce fighting erupted around the Sanaa home of dissident tribal chief
Sheikh Sadiq al-Ahmar on Tuesday as a truce that ended deadly clashes
last week broke down, an AFP correspondent reported.(AFP/Ahmad Gharabli)
Reports emerged on Tuesday of explosions in a northern district of Sanaa that houses the headquarters of an army division headed by opposition figure, Ali Mohsen.
But Yemen's Defense Ministry denied the claims.
There were two other major flashpoints in the country on the same day - government troops gunning down protesters in Taiz in the south, and a battle with militants in the coastal city of Zinjibar.
Full casualty figures were not immediately available due to the intensity of the fighting.
Battles in the capital ended a truce between President Ali Abdullah Saleh's forces and tribesmen. The ceasefire had been brokered at the weekend after more than 100 people were killed.
Saleh has defied calls from global leaders, elements in his own military and tens of thousands of protesters to end his 33-year-rule.
He has also exasperated his Gulf Arab neighbors by three times agreeing to step down, only to pull out of a power transition plan.
Related stories
Editor:Xiong Qu |Source: CNTV.CN