Watch Video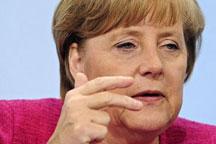 Play Video
German Chancellor Angela Merkel has arrived in New Delhi on an official visit to India. She met with Indian Prime Minister, Manmohan Singh, with both leaders agreeing to deepen cooperation on trade and anti-terrorism.
German Chancellor Angela Merkel and Indian Prime Minister reviewed regional security and ways to work together against terrorism during her one-day India visit. Efforts to engage with Taliban and the situation in Afghanistan dominated the talks.
Indian Prime Minister Manmohan Singh said, "We reviewed the latest developments in Afghanistan and Pakistan and will continue our discussions on these matters. We both recognise that terrorism is a serious challenge that has to be fought on all fronts and not selectively."
The German chancellor said that Germany would insist on reconciliation of all the forces in Afghanistan if they fulfill the condition of renouncing the use of force. India's defence market is growing and Angela Merkel took this opportunity to make a pitch on behalf of a european consortium wanting to supply India with 126 fighter jets.
Currently Eurofighter typhoon is competing with French made Rafake fighter for the 11 billion dollar contract. Increasing bilateral trade remains high on the agenda as well
Merkel said, "We would like to have 20 billion dollars in trade in mutual exchange by 2012. We have reached 15 by not and we have a growth rate of over 15 per cent. So their is a very dynamic development there."
CCTV correspondent Shweta Bajaj said, "After many high profiles visit in 2010, India now sees the visit of the German Chancellor. Both the countries have decided to cooperate on what they call 'infinite opportunities".
India and Germany have signed four agreements for cooperation in the areas of science and technology, nuclear physics, education and medical research.
Related stories
Editor:Zhang Jingya |Source: CNTV.CN