Watch Video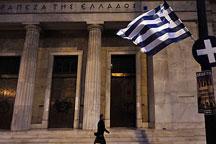 Play Video
Debt-stricken Greece appears to have agreed a tax cut with its international lenders. The move aims to boost domestic spending and forge broad consensus for more austerity measures. But the opposition has refused to support the measures.
Fierce resistance in Athens to another round of austerity measures the Greek government insists are essential to dig the country out of debt.
Greece is trying to avoid defaulting on its billions of debt, with European officials meeting to discuss a possible second bailout for Greece.
Along with fresh austerity measures and privatisations, one of the government's latest plans is to cut the amount of value-added tax Greeks pay, in order to boost spending.
That tax cut appears to have found agreement with international lenders, but not with Greek opposition parties.
The European Union and International Monetary Fund who gave Greece its bailout want political consensus, so any deal would remain in place no matter who is in power.
But economist Gustavo Bagattini of RBC Capital Markets says greater problems still exist.
He said, "The problem is the original IMF/EU package envisiaged Greece returning to markets next year and clearly that's not going to happen with funding costs what they are right now, so there is a shortfall, some of that will be filled by these new measures, new fiscal measures, new privitisation measures, more money will probably have to be put in there because these measures by themselves aren't sufficient."
The tax deal is still to be officially confirmed.
But government sources in Germany - which has shown the most resistence to giving Greece further financial aid - told Reuters it had been struck.
Greece has fallen short of its deficit-reduction goals, and risks not getting the latest installment of its IMF and EU bailout, or even defaulting on its 327 billion euros of debt.
Austerity measures are hitting Greek households hard, and retail sales dropped 17 percent on 12 months earlier in the year to March.
Related stories
Editor:Zhang Jingya |Source: CNTV.CN