Watch Video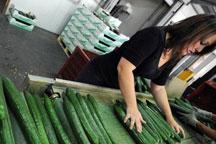 Play Video
Europe is attempting to contain the deadly outbreak of E. coli, which has killed at least 16 people in Germany and has infected more than 1000. The outbtreak is spreading across the EU. CCTV correspondent Jack Barton explains that wrangling over which country is responsible for the bacteria may be slowing the response.
European agriculture ministers meeting in Hungary.
The expected agenda was quickly cleared to deal with a deadly outbreak of E. coli contaminated food that has hit hardest in Germany.
The president of the Agriculture Council Sandor Fazekas said the EU would now focus on identifying the source of contamination and providing accurate information to the public.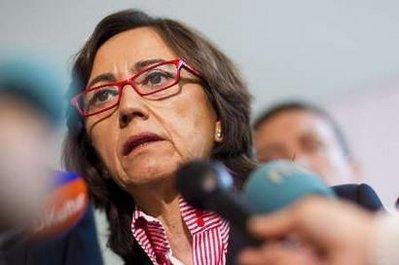 Spanish agriculture minister Rosa Aguilar talks to the press
during the Informal Meeting of EU Ministers for Agriculture in
Debrecen, 240 km (149 miles) east of Budapest May 31, 2011.
After initially suspecting Spanish cucumbers of causing the outbreak Germany now admits it does not really know which product is carrying the deadly E. coli strain or where it's from.
Some officials are warning consumers to avoid most unpeeled fruit and uncooked vegetables.
At least until the product and country of origin is known beyond doubt.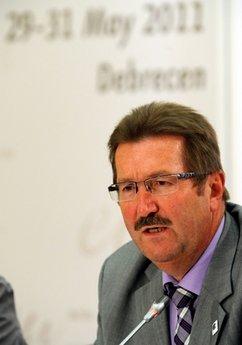 State Secretary for Federal Ministry for
Food, Agriculture and Consumer Protection
of Germany Robert Josef Kools speaks
during his press conference after the
second day consultation of the EU
agricultural ministers in Debrecen,
226 kms east of Budapest, Hungary,
Tuesday, May 31, 2011.
Jack Barton said, "The concern here is being heightened by a complication that is affecting many of patients infected by E. coli. The complication can lead to kidney failure and is potentially fatal. That's why Germany is preparing for more patients."
There are indications the outbreak is now spreading across Europe.
The unusual, toxic strain of the common E. coli bacteria is being described as the most aggressive doctors have ever seen.
But Spain itself has suffered no outbreak and is angry at Germany for allegedly costing it 200 million Euros in lost exports this week.
Rosa Aguilar Rivero, Spanish Agriculture & Envir. Minister, said,"We are going to be very clear in saying that Spanish products are safe products. There is no reliable data to point at any member state, let alone Spain, and we have to be clear that we have very secure and quality products."
For now many Germans are avoiding most fresh produce.
Other Europeans are taking a cautious wait and see approach.
Iria, Belgian shopper, said, "I hear about it on the TV but it doesn't make me worry about it. At the moment you wash well the vegetables. I mean we don't know where the problem comes from. Is it really from Spain?"
Spain is now threatening to take legal action against Germany for economic losses, while Germany and the rest of Europe struggle to bring the infection rate and death toll of the E. coli outbreak under control.
Editor:Zhang Jingya |Source: CNTV.CN