Watch Video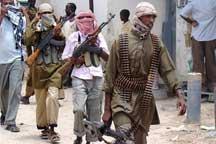 Play Video
At least 17 people were killed and 46 others were injured in fierce battles between Somali government forces backed by AU peacekeepers and Islamist insurgents over the control of key positions in Mogadishu.
The AU forces in conjunction with the Somali troops have made progress in fighting the Islamic militants. According to officials, they now have control of over 60 percent of the Somali capital.
Following fierce battles with Islamist rebels Thursday, Somali government forces took over key positions around the northwestern part of the main Mogadishu market.
The strategic market is seen as an important hideout for the insurgents and a source of revenue to fund their attacks against the government.
The Somali government backed by AU peacekeepers has undertaken a massive offensive in the capital as well as in southern provinces controlled by radicals, who have experienced their worst losses to date.
The militants have vowed to continue their attacks, calling on civilians to stay away from the installations of the government and AU forces in Mogadishu.
An extremist group this week carried out multiple suicide attacks on AU troops in Mogadishu, killing two peacekeepers and wounding four others.
Uganda's President on Thursday renewed calls for a no-fly zone to be imposed over Somalia in a bid to curb the influx of arms in the war-torn country.
He said the air space there should be used for aerial bombardments of the militants and re-supplying the AU troops.
He also stated that the troops, operating under difficult circumstances, need to be re-equipped with bullets, armored personnel carriers, and personal protection gear.
Related stories
Editor:Xiong Qu |Source: CNTV.CN