Watch Video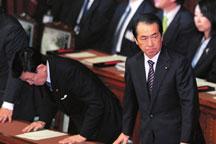 Play Video
Japanese Prime Minister Naoto Kan now hints that he wants to keep his job into next year after he survives a no-confidence motion in parliament this week. He says he wants to resolve Japan's massive nuclear crisis. But Japanese lawmakers are fuming at the Prime minister.
Japan's parliament was thrown into confusion Friday (June 3) after Prime Minister Naoto Kan made what many say is a flip-flop, now hinting that he wanted to keep his job into next year.
Japanese lawmakers - in both ruling and opposition camps - are fuming at the prime minister, after they helped him survive a no-confidence motion.
They had voted against the motion in exchange for his promise to resign in the near future.
Some lawmakers are openly calling Kan a "con man."
Ichita Yamamoto, Lower House Member from Opposition Liberal Democratic Party, said, "You are a con-man. You tricked people into believing you'd be quitting soon."
After the no-confidence motion was voted down Thursday (June 2), Kan said he would hold onto his job until the crippled Fukushima nuclear reactors are brought under control.
This is known as a "cold shutdown," a process that could take at least until January next year, or probably longer.
Naoto Kan, Japanese Prime Minister, said, "When the emission of radioactive substance stops, and when we achieve a cold shutdown, that is when we can draw a line."
Following Kan's comments, Japan's fractious ruling party resumed its bickering.
Former prime minister Yukio Hatoyama is particularly incensed, after brokering a last minute pact with Kan to keep party rebels in line.
The squabbling will likely further hamper efforts by the government to address Japan's post-quake reconstruction, and massive public debt.
Related stories
Editor:Zheng Limin |Source: CNTV.CN