Watch Video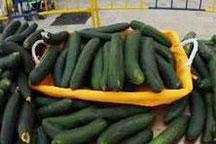 Play Video
As the source of the E. coli bug remains undiscovered, consumers in Germany are refraining from buying salad vegetables, which were originally blamed for the deadly outbreak. It's reported that up to 60,000 cucumbers are being thrown away each day.
The cucumbers and tomatoes grown in Papenburg, Lower Saxony, have been officially certified as safe of E. coli. But even so producers have been forced to throw away tons of produce due to a lack of consumer demand.
Angie Schramm, Gardener & Employee in Papenburg, said, "People are harvesting the cucumbers and tomatoes everyday, but at the same time they know that the harvest will be thrown away every evening. So the work is done for nothing. The owner of my company must continue to pay for the hours of work and everyday he does not earn anything. There are only costs for him."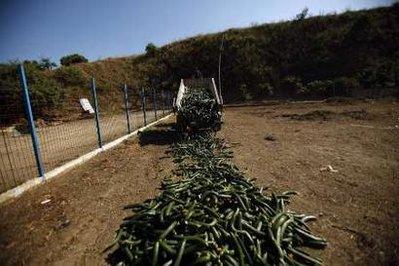 A farmer unloads discarded cucumbers to feed his goats in Algarrobo,
near Malaga, southern Spain, May 31, 2011.
Meanwhile, schools are pulling raw vegetables off their menus. Piles of cucumbers are sitting untouched on shop shelves and farmers say they are losing millions.
Serkan Turan, Berlin Greengrocer, said, "Tomatoes, salad and cucumbers are being discarded. We're losing a lot. I can't imagine how the situation is for Spain at the moment."
European health institutes have tried to reassure the public that the spread of E. coli, can be contained by washing vegetables and hands before eating or preparing food to avoid bacteria being passed on from the feces of an infected person.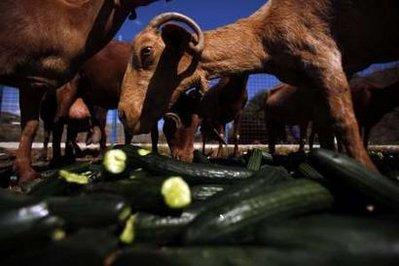 Goats eat discarded cucumbers at a farm in Algarrobo, near Malaga,
southern Spain, May 31, 2011.
Editor:Du Xiaodan |Source: CNTV.CN