Watch Video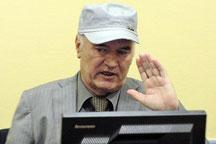 Play Video
Former Bosnian Serb military commander Ratko Mladic has said that he defended his people and his country in the Balkans war, and now intends to defend himself against war crimes charges at the UN's Yugoslavia tribunal.
Claiming poor health, Mladic declined to enter a plea during his first appearance in court. The accused military commander said he fears no one, and that this time, he's defending himself.
Mladic said, "I defended my people and my country, not Ratko Mladic. Now I am defending myself,I am defending Ratko Mladic before you. "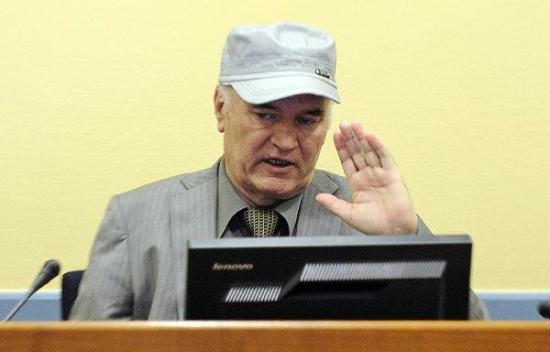 Former Bosnian Serb General Ratko Mladic salutes in the court room during his initial appearance at the UN's Yugoslav war crimes tribunal in The Hague, Netherlands, Friday, June 3, 2011. Ratko Mladic has refused to enter a plea to genocide and war crimes charges, denouncing the allegations against him as "obnoxious".(Xinhua/Reuters Photo)
Awaiting the end of the 100-minute court hearing, is a mother of a victim of the Srebrenica massacre in which some 8,000 people perished. She recounts her own courtroom clash with Mladic.
Kada Hotic, Mother of Srebrenica victim, said, "I was watching Mladic and I've never hated him as much as I do now, when I saw him. He was so provocative. He even made eye contact with me. I pointed my finger at him and told him that he will pay for my son that he killed. And he said 'you are small'. And I told him: 'you are small'."
Mladic was indicted over the 43-month siege of the Bosnian capital Sarajevo and the massacre of 8,000 Muslim men and boys in the town of Srebrenica, close to the border with Serbia, during the 1992-95 Bosnian war. The former military commander was apprehended in a small Serbian village after 16 years on the run, before being extradited to the Hague to stand trial.
The United Nations' war crimes tribunal says everything possible would be done to ensure a fair trial, and the emphasis would be on justice, not speed. The Judge has scheduled a new hearing for July 4.
Related stories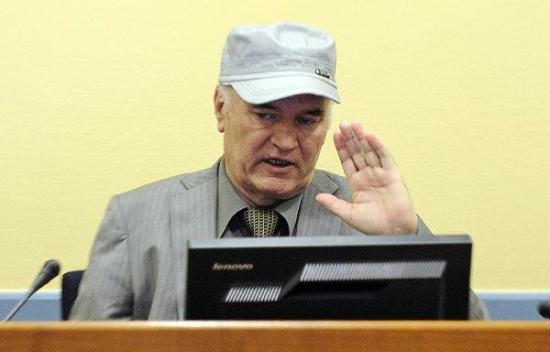 Former Bosnian Serb General Ratko Mladic salutes in the court room during his initial appearance at the UN's Yugoslav war crimes tribunal in The Hague, Netherlands, Friday, June 3, 2011. Ratko Mladic has refused to enter a plea to genocide and war crimes charges, denouncing the allegations against him as "obnoxious".(Xinhua/Reuters Photo)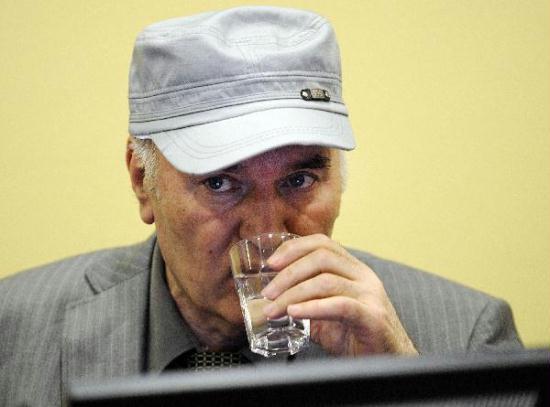 Former Bosnian Serb General Ratko Mladic drinks water in the court room during his initial appearance at the UN's Yugoslav war crimes tribunal in The Hague, Netherlands, Friday, June 3, 2011. Ratko Mladic has refused to enter a plea to genocide and war crimes charges, denouncing the allegations against him as "obnoxious".(Xinhua/Reuters Photo)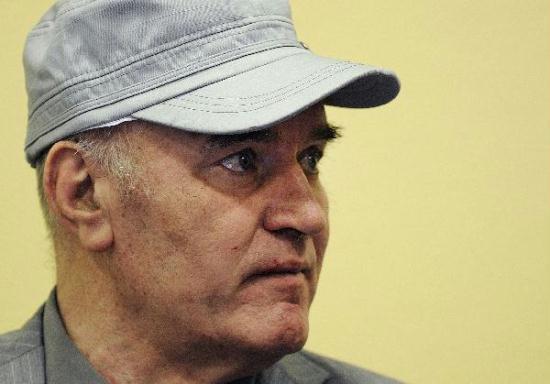 Former Bosnian Serb General Ratko Mladic appears at the UN's Yugoslav war crimes tribunal in The Hague, Netherlands, Friday, June 3, 2011. Ratko Mladic has refused to enter a plea to genocide and war crimes charges, denouncing the allegations against him as "obnoxious". (Xinhua/Reuters Photo)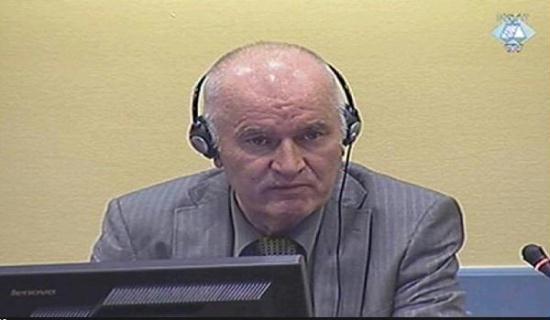 Wartime Bosnian Serb army chief Ratko Mladic has refused to enter a plea to genocide and war crimes charges, denouncing the allegations against him as "obnoxious". Ratko Mladic appeared at the UN's Yugoslav war crimes tribunal in The Hague, Netherlands, Friday, June 3, 2011.(Xinhua/Reuters Photo)
Editor:Du Xiaodan |Source: CNTV.CN