Watch Video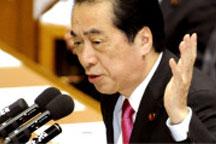 Play Video
Despite surviving a no-confidence motion, Japan's beleaguered Prime Minister Naoto Kan is facing mounting calls for him to step down. The calls from within his own Democratic Party are over what members believe is Kan's refusal to give a clear indication of when he'll resign.
Addicted to the fumes blowing in Japan's nuclear wind, Naoto Kan continues in office for now...
He says he'll resign in line with the agreement with former Prime Minister Yukio Hatoyama and with DPJ lawmakers. That deal helped him survive the no-confidence motion on Thursday.
But Kan again refused to give an exact time to quit on Friday. He says he wants to stay until the troubled Fukushima nuclear plant is stabilized. That means he may be about until January next year.
His comment angered many, including Hatoyama. The former prime minister says according to his agreement with Kan, the Prime Minister would resign after drafting the extra budget for post-quake reconstruction, a process that could be finished this month.
Hatoyama said, "If Kan cannot keep his promise he is a fraud. Many party members put trust in me and choose to vote against the no-confidence motion at the last minute. But when the motion was rejected, Kan reversed his pledge so quickly. If I had known this I would have voted for the motion. "
Hatoyama says he will call for a general assembly of all party lawmakers as early as next week in a bid to press Kan to resign immediately.
The main opposition Liberal Democratic Party also criticized Kan of not offering an exact date for resignation. The party says it will continue to press Kan to step down.
Yuriko Koike, Liberal Democratic Party, said, "Kan has expressed his intention to resign. But now he is still taking part in affairs, such as diplomatic talks and formulating the second supplementary budget plan. How much responsibility he can take? "
Opposition parties control parliament's upper house and can block bills. They have insisted that Kan step down before they will cooperate on implementing policies.
Editor:Du Xiaodan |Source: CNTV.CN