Philippine officials have filed criminal charges over a huge shipment of endangered sea turtles and rare black corals. The seizure has raised concerns that the archipelago's rich marine life is being devastated by illegal trade.
The cargo was seized by customs officials at a Manila port last month and included over twenty thousand pieces of black coral and many other marine species, including hawksbills and green turtles. They're estimated to be worth more than 800-thousand US dollars.
Officials say the suspects face charges of violating the ban on coral exploitation and exportation and related offenses. The Philippines is one of six countries straddling the Coral Triangle. It's a 5 million-square-kilometer stretch of ocean that contains three out of four of the world's coral species, and one-third of the Earth's coral reefs.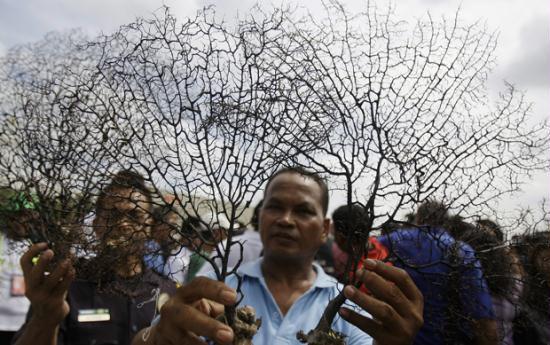 Filipino customs police show rare black corals seized as contraband.
(Aaron Favila/Associated Press)
Editor:Du Xiaodan |Source: CNTV.CN