Watch Video
Play Video
We first turn to Libya, where loud explosions rocked Tripoli early on Wednesday. This is the heaviest bombing by NATO in the Libyan capital since air strikes began in March. Nevertheless, Muammar Gaddafi refuses to surrender and has vowed to fight to the end.
Tripoli is shaking.
With 10 explosions early on Wednesday and 40 thunderous daylight attacks on Tuesday, NATO is increasing the scope and intensity of their air campaign to oust Libyan leader Muammar Gaddafi.
Libyan government spokesman Moussa Ibrahim said 31 people died in the attacks.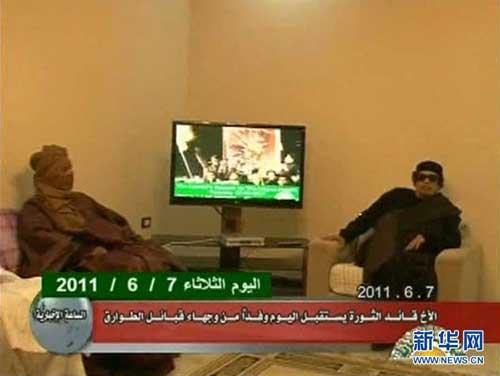 Still image taken from footage broadcasted by Libyan state TV shows Muammar Gaddafi
meeting tribal leaders in an unknown location June 7, 2011. The Libyan leader,
wearing dark glasses and traditional robes, was greeting the leaders in a small
room without windows. The news anchor said the meeting had taken place on Tuesday.
(Xinhua/Reuters Photo)
Moussa Ibrahim, Libyan government spokesman, said, "There is no justification to attack Tripoli with 60 rockets, kill more people, and injure more people under the pretext of protecting civilians in Libya."
Meanwhile, in an audio address from Gaddafi released by Libya's state television broadcaster, Gaddafi denounced NATO and the rebels challenging his rule and vowed never to surrender.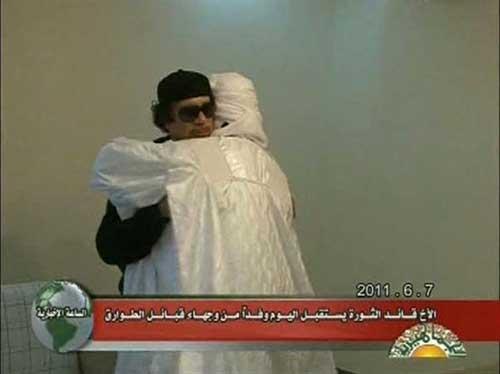 Footage broadcast by Libyan state TV shows Muammar Gaddafi greeting a tribal leader
in an unknown location, June 7, 2011. (Xinhua/Reuters Photo)
Muammar Gaddafi, Libyan Leader, said, "We will not give up. We have only one choice which is to stay in Libya and either live or die. We will not surrender."
A surrender eagerly wanted by NATO.
In a two-day meeting of alliance defense ministers beginning Wednesday at NATO's Brussels headquarters, the alliance's secretary general called for more support from allies in the escalating mission to force Gaddafi to step down.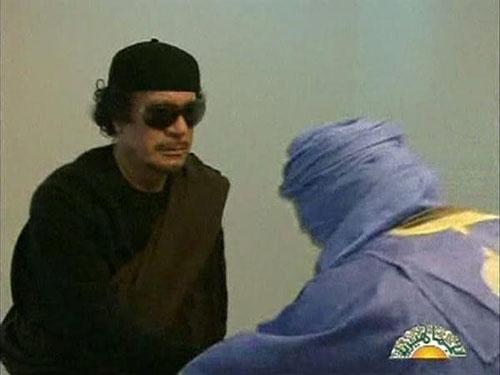 Footage broadcast by Libyan state TV shows Muammar Gaddafi greeting a tribal leader
in an unknown location, June 7, 2011. (Xinhua/Reuters Photo)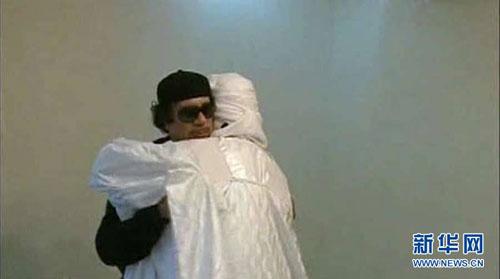 Footage broadcast by Libyan state TV shows Muammar Gaddafi greeting a tribal leader
in an unknown location, June 7, 2011. (Xinhua/Reuters Photo)
Editor:Zhang Pengfei |Source: CNTV.CN