Watch Video
Play Video
Russia and the European Union are starting talks expected to be dominated by a dispute over Moscow's ban on EU vegetable imports because of the E. coli outbreak in Europe.
Russian President Dmitry Medvedev greeted EU leaders at the start of the Russia-EU summit.
The two-day meeting is intended to maintain the momentum in Russia's bid to join the World Trade Organization this year. But angry exchanges over Moscow's ban, announced last week to prevent the spread of the E. coli outbreak, have soured the atmosphere.
The EU and Russia had trade of over $306 billion in 2010, with the EU also being the biggest foreign investor in Russia. But relations have often been awkward, with the EU frustrated with the state of democracy in Russia, while Russia has become tired of being "lectured to".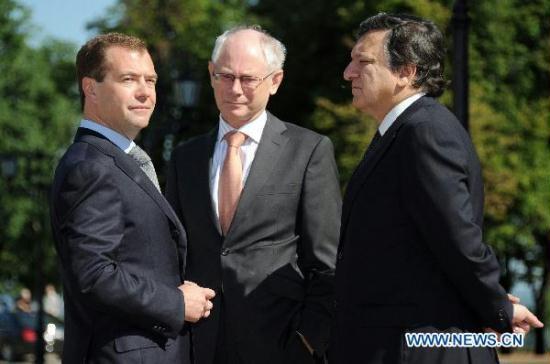 The president of the European Commission, Jose Manuel Barroso (R), Russian President Dmitry Medvedev (L) and President of European Council Herman Van Rompuy (C) chat prior to the start of talks in Nizhny Novgorod on June 10, 2011. (Xinhua/AFP Photo)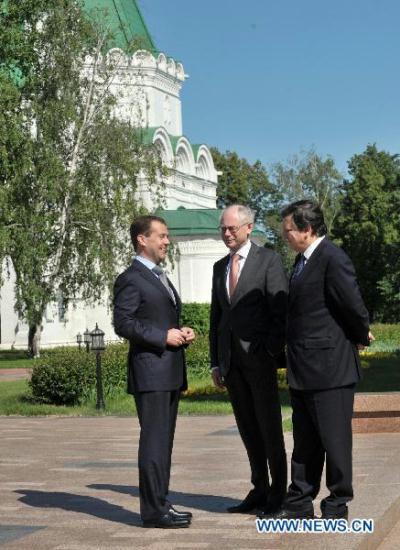 The president of the European Commission, Jose Manuel Barroso (R),
Russian President Dmitry Medvedev (L) and President of European
Council Herman Van Rompuy (C) chat prior to the start of talks in
Nizhny Novgorod on June 10, 2011. (Xinhua/Liu Lihang)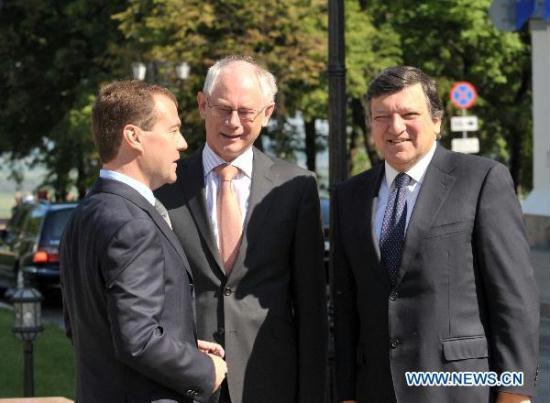 The president of the European Commission, Jose Manuel Barroso (R), Russian President Dmitry Medvedev (L) and President of European Council Herman Van Rompuy (C) chat prior to the start of talks in Nizhny Novgorod on June 10, 2011. (Xinhua/Liu Lihang)
Related stories
Editor:Zhang Pengfei |Source: CNTV.CN