Watch Video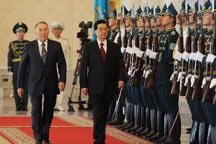 Play Video
Chinese President Hu Jintao is attending a grand welcoming ceremony held by his Kazakh counterpart, Nursultan Nazarbayev. President Hu arrived in Astana on Sunday, starting his nine day state visit to Kazakhstan, Russia and the Ukraine.
This marks his third visit to Kazakhstan in the past year and a half. Hu and Nazarbayev are expected to discuss the future development of the bilateral strategic partnership.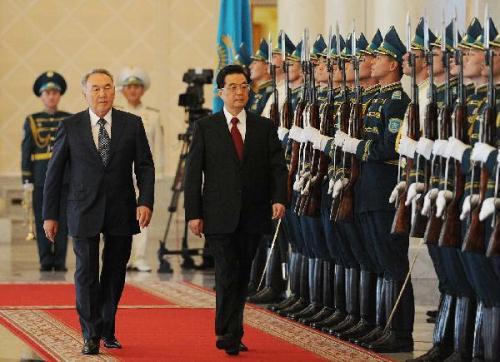 Chinese President Hu Jintao (C) and his Kazakh counterpart Nursultan Nazarbayev
(L front) inspect guards of honor during a welcoming ceremony hosted by Nazarbayev
prior to their talks in Astana, Kazakhstan, June 13, 2011. (Xinhua/Li Xueren)
The Chinese President will also meet Kazakh Prime Minister Karim Masimov. The two sides will exchange views on major regional and international issues of common concern. President Hu Jintao will also attend the 10th annual summit of the Shanghai Cooperation Organization, an intergovernmental security organization.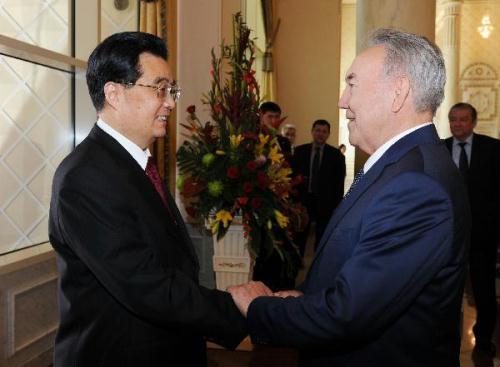 Chinese President Hu Jintao (L) and his Kazakh counterpart Nursultan Nazarbayev hold
talks in Astana, Kazakhstan, June 13, 2011. (Xinhua/Rao Aimin)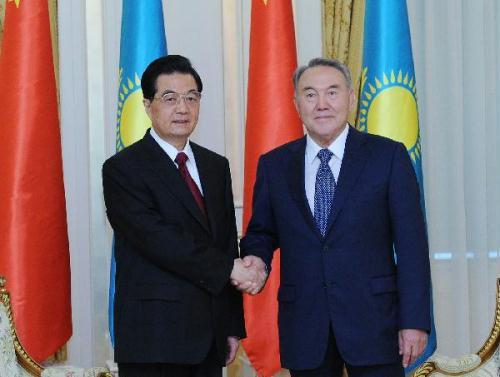 Chinese President Hu Jintao (L) shakes hands with his Kazakh counterpart Nursultan
Nazarbayev in Astana, Kazakhstan, June 13, 2011. Hu and Nazarbayev held talks here
Monday. (Xinhua/Rao Aimin)
Related stories
Editor:Xiong Qu |Source: CNTV.CN