Watch Video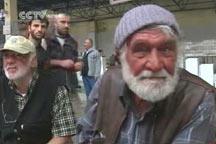 Play Video
Many Turkish voters have welcomed the results of parliamentary elections which saw the ruling party surging to a third term. The ruling Justice and Development Party won 325 seats in the 550-seat parliament, a comfortable majority that ensures the continuation of its single-party rule.
Elections always reflects normal life.
In a fish market in Istanbul, several residents in particular appeared to be happy with the results.
Bolu Beyi, fisherman said "I have never seen anything bad with him. He is good for me, I buy petrol a little cheaper when I go to the sea. Every year I have a small profit from him. I am grateful."
This view is echoed by others.
Retired teacher Ismail Firtina declared it was also the right result for him.
Ismail Firtina, Retired teacher said "There aren't any leaders. He is the man."
Not far away in the capital, Ankara, thousands of ecstatic supporters gathered in front of the ruling party's headquarters, chanting slogans and waving Turkish flags as Erdogan delivered his victory speech.
Recep Tayyip Erdogan, Turkish Prime Minister said "There is no doubt that everybody will keep living in peace, trust and security, it doesn't matter which party they gave their vote. The things we have done are the guarantees that the things we will do."
Guarantees to the fishermen, as well as other Turks.
Turkey's economic growth rate last year was nearly 9 percent, the second highest among G-20 nations after China.
Editor:Xiong Qu |Source: CNTV.CN