Watch Video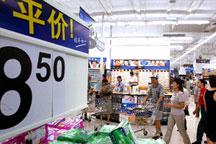 Play Video
The Consumer Price Index, the most closely-watched gauge of inflation, accelerated to 5.5 percent in May compared with that of the same period last year. The figure indicates that inflationary pressure in the country remains high.
National Bureau of Statistics spokesman, Sheng Laiyun, says CPI in May increased by 5.5 percent year-on-year, 0.2 percentage points higher than in April. This is a 34-month high. Food prices continued to be the main driver of the index, rising by 11.7 percent. The Producer Price Index, a gauge of wholesale inflation, remained unchanged compared from April and rose by 6.8 per cent year-on-year.
Sheng said, "What I want to stress about prices is that though the CPI reached a new high in May, there are some positive changes when viewing the month-on-month growth figure. The macro-economic control, to some extent, has had some effect. And the trend of excessively-fast price rises has been curbed to some degree."
Though the growth in industrial production and retail sales dropped in May compared with the previous month, Sheng Laiyun says there's no need to be too concerned about a deceleration in economic growth. He said the economic fundamentals have not changed, as shown by steady growth in industrial production, investment and output of key products, such as iron and steel.
"Viewing economic indicators for May... though some indicators show a decline, we believe the economy is still running at a relatively fast pace. And the economy is heading towards the direction and expectation of our macro-control policies," said Sheng.
Sheng Laiyun says moderately slower economic growth will help China in its efforts of economic restructuring, changing its growth pattern and curbing inflation.
Editor:Shi Jierui |Source: CNTV.CN