Watch Video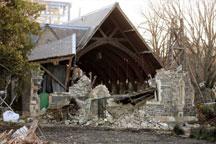 Play Video
Power has been mostly restored across the New Zealand city of Christchurch, following a series of earthquakes that toppled several buildings, and killed one local resident.
Monday's latest tremors, the strongest of which measured 6 in magnitude, left nearly 50-thousand households without electricity. But by Tuesday afternoon, just 7-thousand residences remained without power. More than 40 people suffered injuries, most of which were minor, but authorities say one elderly nursing home resident was killed. Reservoirs were also compromised, so Mayor Bob Parker is encouraging people to boil their water. He's also addressing fears that the continuing aftershocks will adversely affect insurance policies.
Parker said, "What's really important for the city, is that there is confidence in the insurance and re-insurance industry. So if we don't have the ability to re-insure, going into the future, then we don't have the ability to borrow money, to rebuild homes, and get mortgages."
Related stories
Editor:Shi Jierui |Source: CNTV.CN