Watch Video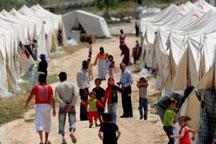 Play Video
The Turkish Foreign Ministry has organized a media tour of the Boynuyogun Camp, where scores of Syrians have taken refuge, after fleeing their homes to escape a military crackdown.
People there have been trying to adjust to life in the temporary shelters. Turkish authorities had previously barred journalists from entering the site. One reason given was to protect refugees from being filmed or photographed, which could pose a danger to them or their families. At least 96-hundred Syrians have now escaped into Turkey. Up to 10-thousand more have taken shelter in a village 20 meters across the border.
Officials from the UN Refugee Agency say Syrians continue to cross the border into Turkey. The Agency says it is in close contact with Turkish authorities to provide support.
Carol Batchelor, Representative of UN High Commissioner for Refugees said "Turkey has said for the time being they are able to manage the situation, to cope with the circumstances, but we are in close contact with them, should it be protracted, should the numbers augment and so on, to see where we might support Turkey in this process."
Editor:Xiong Qu |Source: CNTV.CN