Watch Video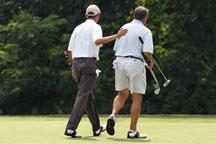 Play Video
In the United States, president Barack Obama and Republican house speaker John Boehner have been trying to iron out their differences over a deal to manage the country's debt through a round of golf.
The latest efforts by the white house to rally Republican support for a deal over US debt have led to the golf course.
Barack Obama and John Boehner teed off under sunny skies at the Andrews military base in Maryland.
Joined by the Vice President Joe Biden and Republican governor John Kasichon they played for 4 hours,but the result after 18 holes remained strictly classified information.
US President Barack Obama (centre) and Republican House Speaker John
Boehner (right) play on the first hole with Ohio Governor John Kasich
during a game of golf at Andrews Air Force Base in Maryland.(AFP/Mandel
Ngan)
Barack Obama and John Boehner teed off under sunny skies at the
Andrews military base in Maryland.
Official reports say the outing was aimed at allowing the two men to get to know each other better and possibly pave the way for Obama's Democrats and Boehner's Republicans to find a way to reach an agreement to increase the current 14.3 trillion US dollars ceiling on the nation's debt.
A spokesman for the speaker acknowledged that debt and deficits were likely have been touched upon while on the green but that final decisions on spending cuts would be left for politicians.
Without a deal to allow the nation to issue more debt, the Treasury Department has warned the government will begin defaulting on obligations from August 2nd onwards.
President Barack Obama walks off the first green with House Speaker
John Boehner, R-Ohio, right, while golfing at Andrews Air Force Base,
Md., Saturday, June 18, 2011.(AP Photo/Charles Dharapak)
Biden has been leading debt limit negotiations since May and his bipartisan group of lawmakers is due to meet a further three or four times next week with healthcare and taxes among the issues to be addressed before the August deadline.
Obama and Boehner are expected to eventually intervene directly in negotiations over a final deal, given the large differences presently between the two parties on how to achieve the budget savings that would provide lawmakers with the political leeway to raise the debt ceiling.
Related stories
Editor:Xiong Qu |Source: CNTV.CN