Watch Video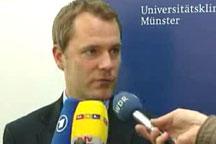 Play Video
Health officials in Germany have confirmed they have detected the first case of human to human spread of the deadly strain of the E. coli bacteria. Authorities say a woman working in a kitchen of a catering company near Frankfurt became infected with the new strain after eating sprouts and passed it on to 20 people she prepared food for.
Daniel Bahr, German Health Minister said "Now we have the proof that in this case a human passed on the germ to the vegetables and then it was passed to other humans. We need to analyze this calmly, and see which consequences we draw from that."
E. coli cases began appearing at the start of May and the outbreak swelled to crisis level over the following three weeks. The deadly strain of E. coli which has claimed the lives of almost 40 people has also been found in a stream in the Frankfurt region.It's not clear how the bacteria entered the water.
Local authorities say the presence of the E.Coli strain poses no risk to the area's drinking water supply, adding that other types of bacteria had been found in the stream before. But they're advising against using water from the stream to wash and water fruit and vegetables, and to avoid eating produce that may have been in contact with it.
Related stories
Editor:Xiong Qu |Source: CNTV.CN