Watch Video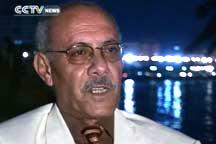 Play Video
Libya's opposition movement and its international backers, are hoping individuals from Muammar Gaddafi's inner circle will defect en masse, in the face of increasing political and military pressure.
Our correspondent Yama Wolasmal has met one former official who did so. He offered some insight on why the longtime leader refuses to step down, after four decades in power.
He is a renowned writer and poet in Libya. Idris Tayeb has authored eight books, and has been one of Muammar Gaddafi's harshest critics ... Criticism which earned him 10 years in Gaddafi's jails. Upon release, Gaddafi wanted to keep his opponent close to himself.
Idris Tayeb, Libyan Defector, said, "Gaddafi asked me personally to be his Minister of Information ... TV, radio, news agencies, all the machines of lie. I couldn't do that. I would consider that as an elimination, as an assassination of my history."
So the Libyan leader decided to dispatch Idris to foreign countries as his cultural attaché. Idris, who knows Gaddafi personally and had been called in to many private meetings with him, says the Libyan leader is disillusioned.
Idris Tayeb, Libyan Defector, said, "Gaddafi doesn't want to go because he is an illusionist. A couple of hours ago he said NATO would be defeated. He has no relationship with reality. That's why I compare him with a snake. You don't ask the snake to leave the room. You have to beat it with a stick."
According to his former diplomat, Gaddafi genuinely believes his people love him, and that he can ride off the storm in his country.
Idris Tayeb, Libyan Defector, said, "Maybe he's thinking that it's like in 1986, when the Americans bombed his house and several places in Tripoli and Benghazi. That lasted 10 minutes. Maybe he thinks it's another 10 minutes. But it's a very, very long 10 minutes, and this time it's not going to end until he is gone."
Recently Gaddafi's son, his heir apparent and right-hand man, Saif al Islam, offered holding elections in Libya, in an attempt to resolve the crisis.
Idris Tayeb, Libyan Defector, said, "During the period of Gaddafi, if you said the word `election` they would put you in prison, because you would be against the system which considers elections as a crime. Election was thought to be a falsification of democracy. Democracy was only in the green book. Now his son is talking about organizing elections. These people are not related to the reality."
The former diplomat says there is only one solution to the crisis, which has cost thousands of lives, and forced over 750,000 people from their homes.
Idris Tayeb, Libyan Defector, said, "The solution in Libya cannot be political. It should be military political. If Gaddafi and his family leave the country, 90 percent of our problems would be resolved."
Idris claims Gaddafi is detached from reality, because he has surrounded himself with so-called "yes men," people who don't dare to show him the writing on the wall.
Editor:Zhang Pengfei |Source: CNTV.CN