Watch Video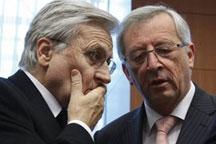 Play Video
Euro zone finance ministers have met in Luxemburg to discuss a second package of support for Greece. That deal is expected to amount to around 120 billion euros.
Greek Prime Minister George Papandreou appealed to his people on Sunday to support the deeply unpopular austerity reforms and avoid a catastrophic bankruptcy.
He added the country is at a crossroads, saying its cash reserves would soon be exhausted without the bailout.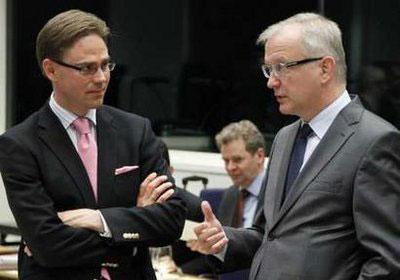 Finnish Finance Minister Jyrki Katainen listens to European
Economic and Monetary Affairs Commissioner Olli Rehn (R) during
an eurozone finance ministers meeting in Luxembourg June 19, 2011.
REUTERS/Francois Lenoir
New Finance Minister Evangelos Venizelos says the reshuffled cabinet is committed to the aid program. German Finance Minister Wolfgang Schaeuble says Germany is ready to help Greece get the time it needs to implement reforms.
Wolfgang Schaeuble, German Finance Minister, said, "We are ready to help Greece and give it the time it needs so that the country goes through a reform programme and through a strengthening of its economy. This is the key, also to secure the financing on the financial markets. Of course that must be done in a way that makes clear the risk is not borne by the taxpayer alone. This is why we are looking for a solution."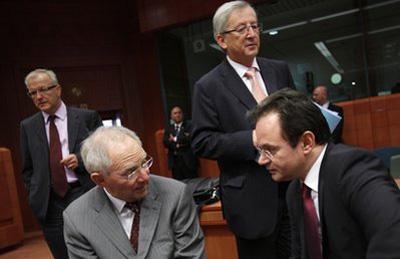 Greek Finance Minister George Papaconstantinou, right, speaks with
German Finance Minister Wolfgang Schaeuble, left, during a round
table meeting of eurogroupfinance ministers at the EU Council
building in Brussels, Tuesday, June 14, 2011.
(AP Photo/Virginia Mayo)
The German minister added Greece must fulfill all the necessary preconditions so that the next loan installment can be paid out on time.
Euro zone finance ministers also discussed how to involve the private sector in the aid package for Greece.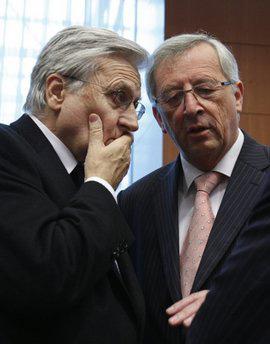 European Central Bank President Jean-Claude
Trichet, left, speaks with Luxembourg's
Finance Minister Jean-Claude Juncker during
a round table meeting of eurogroup finance
ministers at the EU Council building in
Brussels, Tuesday, June 14, 2011.
(AP Photo/Virginia Mayo)
Editor:Zhang Pengfei |Source: CNTV.CN