Watch Video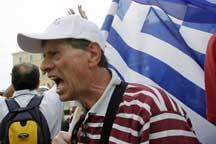 Play Video
Demonstrators have protested in Athens for the 25th consecutive day. As a three-day confidence date on George Papandreou's new cabinet begins, thousands of people gathered outside the Greek parliament saying the new crisis government has not brought about any changes in the austerity measures programme.Su Yuting has more.
More than 10-thousand demonstrators protested against government austerity measures in front of the Greek parliament on Sunday. The protesters say they are not impressed by a cabinet reshuffle in the last few days, as they expect the new austerity package to remain in place.
Grigoris Demestika, Private Businessman, said, "Most of the people here want all the measures to be rescinded and a part of the debt to be written off, or all of it, at least the part that comes from banks."
The EU and IMF have demanded the austerity plan in exchange for a fresh bailout worth some 120 billion euros.
The protesters has accused the government of creating a crisis for future generations and they vowed the protests would continue. A homemaker said the Greek people have been misled by the government about the extent of the economic crisis.
Litsa Solanaki, Housewife, said, "Did they tell the truth? Did they tell us what we owe, why we owe it? Why has the problem reached this far? We knew that we were living off borrowed money, but we never knew how much, why is it so high? Why did they cut wages and pensions for us first but did not cut their own salaries, to provide a good example for the people?"
The cabinet hopes to push the reforms through by the end of June. But weeks of anti-austerity rallies on the steps of parliament have created political uncertainty and spooked investors who fear public rage may weaken the government's resolve.
Editor:Zhang Pengfei |Source: CNTV.CN