Watch Video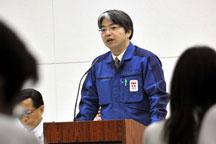 Play Video
The Tokyo Electric Power Company has announced plans to open a main door at Unit 2 of the Fukushima Daiichi Nuclear Power Plant.
Sunday's plan is aimed at ventilating contaminated air, and allowing workers inside to set up equipment. They plan to establish a cooling system, and reduce the risk of hydrogen explosions.
The March 11th earthquake and tsunami knocked out power to the Fukushima Nuclear Plant, incapacitating its crucial cooling systems, and causing three reactor cores to melt.
To allow work to resume inside Unit 2, TEPCO is set to open the main double-door. and ventilate the contaminated air with nearly 100 percent humidity.
Junichi Matsumoto, TEPCO Spokesman, said, "We have decided to open the double-door, starting today at 8 PM. From today at 8 PM, until 4 AM tomorrow, we will open the door partially, to control the dust in the reactor building. Then, at 4 AM, we will open the door fully, if we don't see any problems."
The reactor suffered a torus rupture, but its outer containment building has survived, and contains moisture and radioactivity.
TEPCO wants to quickly inject nitrogen into the reactor, to prevent hydrogen explosions like those that already blew off several roofs and walls at other units.
The operator will leave the door partially open overnight, before fully opening on Monday morning. Officials claim the amount of radiation released into the air will be small enough to not pose any danger to human health.
Meanwhile, more radioactive water is pooling in the tsunami-stricken nuclear plant, as workers scramble to restart a key clean-up system.
It was shut down on Saturday, because a component reached its radioactivity limit faster than expected.
TEPCO aims to move the reactors to a stable cold shutdown state by early January.
Japan has 54 nuclear reactors. More than 30, including six at Fukushima Dai-ichi, and several others that stopped running due to the quake, are out of operation.
Editor:Zhang Pengfei |Source: CNTV.CN