Watch Video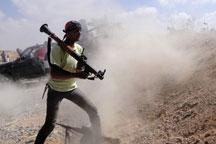 Play Video
Libyan rebels are making little progress in their fight against Muammar Gaddafi. The rebels are stuck on a stagnant frontline in eastern Libya blaming a mixture of planning chaos and poor military equipment.
Meanwhile, the African Union says failure by NATO to score a knockout blow against Gaddafi's rule means the West will inevitably back the AU plan for a ceasefire in Libya ahead of elections.
Insurgents made swift gains in eastern Libya earlier in the war but later lost one town after another as government troops pushed them into a chaotic retreat in late March.
Since then, the eastern front has turned into a back and forth battle for control of a strategic stretch of desert road between Ajdabiyah, which marks the gateway to the rebel-held east, and Brega, 80 km further west.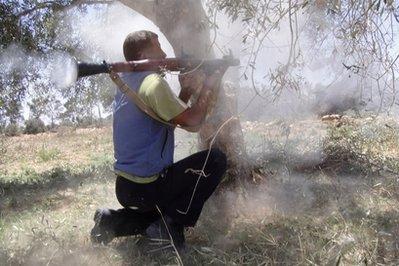 A Libyan rebel fires a rocket propelled grenade towards pro-Moammar
Gadhafi forces on the front line of Dafniya in Misrata, Libya,
Monday, June 20, 2011.
As the war drags on, the rebels, mostly enthusiastic young people with little battle experience, have thrown up sand berms reinforced the western edge of Ajdabiyah with aging Russian T-54 tanks and homemade artillery installations.
They said that during last week's attempt to take Brega, a key unit deployed south of their position failed to send reinforcements due to problems with planning and communication.
Some fighters complain of a lack of unity among commanders, saying they have to be better prepared. They added that there should be more discipline and planning.
With the NATO bombing campaign mired in a deadlock, the AU says Libya risks becoming a new Somalia and accuses Western powers of swaying African states to their favor.
Jean Ping, AU Commission Chairperson, said, "It seems that there's a sort of absolute power without any checks and balances to three or four countries in the Security Council. So, generally they make a decision and want it to be implemented by the rest of world. This is a fact."
The AU has presented a roadmap calling for an immediate end to hostilities to pave the way for the establishment of an inclusive transition period. However, it made no mention of Muammar Gaddafi's future.
Libya's rebels reject the peace plan, demanding Gaddafi's immediate exit.
The AU has accused Western nations of undermining its efforts to find a homegrown solution to the conflict. Although its peace plan is endorsed as an official continental stance, its elements have stoked divisions among the body's 53 nations.
Related stories
Editor:Zhang Jingya |Source: CNTV.CN