Watch Video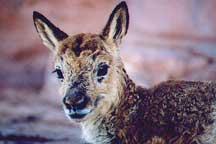 Play Video
Every year from June to July, endangered Tibetan antelopes give birth at the Hoh-Xil Nature Reserve in northwest China's Qinghai Province. Zhou Xiran tells us about a baby Tibetan antelope who became lost but has been finally rescued.
Little "Caicuo" was lost by his mother shortly after his birth.
But luckily for him, he is being taken good care of.
Wang Hailin works at a research station in Hoh-Xil. He found Caicuo, and decided to take him to the local wildlife rescue center.
But it's a difficult journey. Just two hours on the road, the car was trapped in mud.
Caicuo seems hungry, Wang stops his car and feeds him every two hours. But he can't feed him with too much milk power. After all antelope milk is best.
After getting stuck three times in the mud and six stops with engine failure, Caicuo finally arrives at the center in the evening.
Caicuo is the first Tibetan antelope the center has received this year. It decides to let the most experienced volunteers take care of him. But his "father" is still reluctant to leave him.
Adapting to his new home, Caicuo makes new friends very soon.
But the center is only his temporary home. After one and a half years, he will be released back to nature, to find his real mother.
Related stories
Editor:Liu Fang |Source: CNTV.CN