Watch Video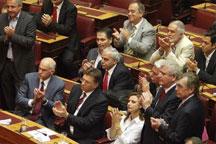 Play Video
Greek lawmakers have passed a key austerity bill demanded by international lenders. This paves the way for the country to get its next installment of vital bailout loans, which will prevent it from defaulting on its debt next month.
The unpopular 28-billion-euro austerity package has been backed by a majority of the 300-member parliament.
Philippos Petsalnikos, Greek parliament speaker, said, "I have the honor of announcing to you the result of the vote. In total 298 members of parliament voted, 155 members of parliament voted 'Yes'. 138 members of parliament voted 'No'. Five members of parliament voted "Present."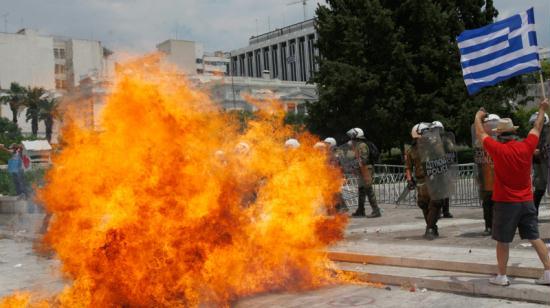 A fire bomb explodes next to riot police at Syntagma Square in front of the Greek Parliament in central Athens, Wednesday, June 29, 2011.
Only one member of the governing Socialist party majority did not vote for the new measures, which resulted in his immediate expulsion from the party.
Petsalnikos said, "With a letter to the President of the Greek Parliament, the President of the Socialist party declares that member of parliament, Panayotis Kouroublis, is no longer a member of the party."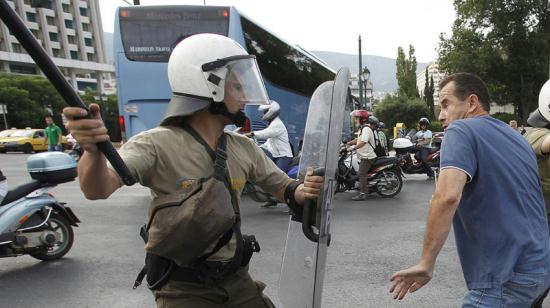 A riot policeman strikes a demonstrator trying to prevent deputies from reaching
the Greek parliament in central Athens on Wednesday, June 29, 2011.
The five-year package contains tax hikes, budget cuts, and a privatization program. Its approval clears the way for a Thursday vote on a separate bill, which would enable individual budget measures and the privatization of specific state assets.
The European Union and International Monetary Fund have demanded that the latest round of austerity measures pass, before they approve the release of a vital 12-billion-euro loan instalment from the rescue package agreed last year.
Without those funds, Greece would be facing a default by the middle of July.
Related stories
Editor:Shi Jierui |Source: CNTV.CN