Watch Video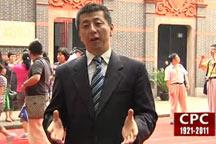 Play Video
Within 90 years, a party that began with fifty members has grown into one with more than 80 million members.
Within that same time, a revolutionary party has successfully transformed itself into the ruling party in a country with 1.3 billion people. This is the amazing story narrated by the Communist Party of China.
Zhu Qingfu has come to the site of the CPC's first national congress to tell the younger generation stories of the party's history. A party member with nearly 40 years of experience, Zhu has won recognition even from people he's never known.
Zhu Qingfu said, "Ever since it came into being, the party experienced numerous tribulations and setbacks and become even stronger."
Throughout its 90 year history, the party has experienced civil wars, Japanese aggression, and serious debating within the party. Recalling these historic events, the party and the nation as a whole has become more mature through constant self-improvement.
Nowadays, the party's reform and opening up policy has rebuilt the country's image and achieved a series of successes in economic development and improving people's livelihood. China is already among the top economies in the world by ranking second on the GDP list.
Significant progress has also been made in the construction of the party with more than 80 million members.
Prof. Zheng Dingli, Fudan Univ., said, "The 80 million members represent."
The party has set up its grassroots organizations in all walks of life.
Wang Qinfeng, vice director of Organization of CPC Central Committee, said, "The party construction at the grassroots level is being further strengthened. The party members are playing pioneering roles in every aspect of our work and daily lives."
The CPC attracts more and more people. Last year, around 21 million people applied to join the party, and more than 3 million were approved.
Related stories
Editor:Liu Fang |Source: CNTV.CN