Watch Video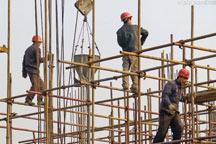 Play Video
Under the sweltering summer heat in Beijing and many other Chinese cities, hundreds of millions of migrant workers sweat to build new subways, roads, homes and office buildings.
As Xie Zheng finds out, CPC members within China's construction sector have come to realize the importance of looking after the welfare of their colleagues.
Wang Ke turns 40 this year. He has been receiving regular medical check-ups provided by his employer over the past six years.
Wang Ke said, "I missed the check-up last month, so I decided to make it up. They used to take us to a hospital, but it's more convenient to have it at the worksite. The doctor gave me an excellent rating, she advised me to keep eating fresh fruit to get my vitamins."
This is Wang Ke's work place, the construction site of an 11-storey office building. Some 400 to 500 workers have to climb up and down the scaffold every day, and the employer takes upon his responsibly to ensure the safety of the workers.
Chen Xinbing, project manager, said, "Construction is a hard job that requires the workers to be physically fit. Medical check-ups have found out that almost a dozen workers suffer from high blood pressure and heart problems. These people are advised to take further check-ups and those who are not suitable to work on the scaffolds were transferred to other jobs on the ground."
Chen Xinbing is contracted to get the building ready in less than two years. Despite the tight schedule, he managed to provide his workers with whatever is necessary to guarantee their well-being. This includes providing them safety training course and free medication to help them stand up to the heat.
Wang Hongbin, Party Official of China Railway Construction Group, said, "The welfare of the employees is the focus of attention of our company. It has contributed much to its continued growth in terms of productivity and revenue. And this in turn has made it possible for us to further improve the working environment of our employees."
A better equipped workforce is a guarantee for greater productivity, but development that brings little benefit for individuals is one that is missing the target.
And Dr Wu Guoyou, a research fellow of the Party History Research Center under the CPC Central Committee, has this to say.
Dr. Wu Guoyou said, "In recent years, we're learning more and more about the term putting people first'. In fact, it's the Party's principle to serve for the people. And people, of course, consist of different individuals."
And, of course, individuals consist of both men and women. With the company in question, woman employees make up about 10 percent of its workforce. Their well-being has been under special attention from the company's management.
Editor:Liu Fang |Source: CNTV.CN