Watch Video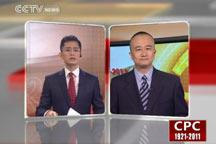 Play Video
Over the past 9 decades, the Communist Party of China has made constructive contributions to the theory of Marxism. To get a better understanding of the evolution of the guiding principles of the CPC, we now have our reporter Han Bin joining us in the studio. Han Bin, could you please discuss the transformation of the party's guiding principles over the decades?
Han Bin: The CPC's guiding principles have had serious implications for the country's economic, political and social changes through certain epochs. Since its inception in 1921 the Party's charter has been rewritten over a dozen times to adapt to the changing times.
Mao Zedong is the core figure of the New China's first generation leadership. The core principles of Mao Zedong Thought are Seeking Truth from Facts and Pursuing What's Best for the Masses. That means proceeding from reality, incorporating theory into the specific conditions of China and putting people's interests first.
The second generation of CPC leadership came with Deng Xiaoping. This generation turned the focus to economic development. The guiding thought of the era was Deng Xiaoping Theory. Deng's pragmatic approach redefined socialism and economically transformed China. His famous statements include: Poverty is not socialism and It doesn't matter if it's a white cat or a black cat, as long as it can catch mice.
The dominant political thought of the third generation of CPC leadership was Jiang Zemin's Three Represents Theory, which states the party represents the advanced productive forces, culture and the interests of the people. This theory broke ground by introducing a new standard for accepting people from diversified economic strata and individual entrepreneurs. This helped boost the CPC's national influence. Although some argue the Three Represents have departed from Marxism, they are widely seen as carefully crafted guidelines for the Party to face the challenges in the new century.
The fourth generation of the party's leadership focuses on Hu Jintao's Scientific Concept of Development and a goal for a Harmonious Society. The core is still people. So we can see that one dominant guiding principle of the Party throughout the ages has been serving the people. If this principle was to be compromised, the party could face real challenges.
Editor:Liu Fang |Source: CNTV.CN