Watch Video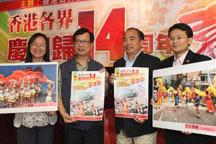 Play Video
Hong Kong is celebrating its 14th anniversary since its return to China.
At eight AM on Friday, a flag-raising ceremony was held at Hong Kong's Golden Bauhinia Square. Two helicopters carrying the national flag and the Hong Kong regional flag saluted from the sky.
Chief Executive of Hong Kong Special Administrative Region, Donald Tsang, together with other high-ranking officials, and more than 2-thousand people attended the ceremony. Despite light rainfall, the enthusiasm of Hong Kong residents was not dampened.
An HK resident said, "I came at six in the morning. I am absolutely excited. We feel good since Hong Kong returned to the motherland. We feel like we are real Chinese in the motherland's embrace. We hope our country is stable and prosperous, and our people are happy."
An HK resident said, "We hope Hong Kong will embrace a better future with a stronger economic performance."
Editor:Liu Fang |Source: CNTV.CN