Watch Video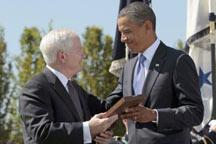 Play Video
President Barack Obama has honored outgoing Defense Secretary Robert Gates' four decades of service, including the past 4 and half years in charge of the Pentagon. Obama presented Gates with the Presidential Medal of Freedom.
It's the highest US honor a president can give to a civilian.
Barack Obama said, "Today, it is my great privilege to present the Presidential Medal of Freedom to America's 22nd Secretary of Defense, Robert M, Gates."
This marked the last day of work for Gates, who has served eight presidents, including both former President George W. Bush, and Obama, as defense secretary.
Obama highlighted Gates's four decades of public service, during remarks at the ceremony.
Obama said, "We not only pay tribute to a remarkable public servant, we celebrate the principles for which he served and for which our nation stands. I believe the life of Bob Gates is a lesson, especially to young Americans, a lesson that public service is an honorable calling."
Saying he was moved to receive the unexpected award, Gates thanked the Presidents he has served, as well as his family, colleagues, and the troops. He said speaking about the troops of the armed forces always causes him to stumble. In keeping with his affection for US soldiers, Gates has sent an e-mail to every member of the US military.
Robert Gates said, "I'll just here that I will think of these young warriors, the ones who fought, the ones who keep on fighting, the ones who never made it back, till the end of my days."
He said his tenure as defense secretary, a period in which he oversaw the Iraq and Afghanistan wars, and recent US military involvement in Libya, has been the greatest honor and privilege of his life.
By accepting Obama's request to remain as Defense Secretary following his service to Bush, Gates became the first person in US history to serve in that role under two presidents from different parties.
Gates took up the post as Secretary of Defense following the departure of Donald Rumsfeld in late 2006.
Prior to serving as the US military chief, he also served as Director of Central Intelligence from 1991, until 1993. According to the Pentagon's website, he is the only career officer in CIA's history, to rise from entry level employee to director.
Editor:Liu Fang |Source: CNTV.CN