Watch Video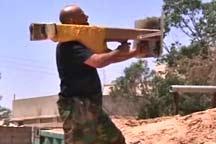 Play Video
Libyan government forces and opposition fighters have exchanged fire in the key city of Misrata. Friday's battle started after six rockets landed near the oil refinery and port, located 200 kilometers from Tripoli.
The rebels appear to be making scant progress, as they try to push toward the nation's capital, from the southwest mountains and northeast coast. Some insurgents claim Muammar Gaddafi's army has resorted to launching Hawn rockets, because the military can't engage them face to face. No casualties have been reported from the latest skirmish. Opposition soldiers say Gaddafi's forces are now massing to quell a violence in Zlitan, a major town along the route from Misrata to Tripoli. Rebels there report mounting a raid on pro-administration positions Wednesday night.
Ali Al-Obaede, Opposition Fighter from Tripoli, said, "We are the people who cannot be oppressed. We are asking for freedom. This freedom is not something we buy with money. Libyan people are buying it with their blood. And they will pay the price with their blood. We are the sons of Libya, the children of history."
Meanwhile, witnesses said some other rebels were pulling back from their positions outside the town of Bir al-Ghanam, 80 kilometers south of Tripoli.
Editor:Zheng Limin |Source: CNTV.CN