Watch Video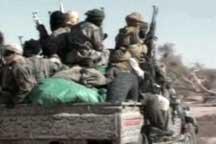 Play Video
Sudanese President, Omar Hassan al-Bashir, has said his country's army will continue its campaign in the flashpoint of South Kor-fo-dan.
During Friday Prayers, the Sudanese President told worshippers he directed the armed forces to continue their military operations in South Kordofan.
Fighting between the northern military and southern-aligned armed groups broke out in Southern Kordofan on June 5th and has escalated to include artillery and warplanes. More than 60,000 people are believed to have fled the fighting.
The Sudanese president said the military campaign would only stop with the arrest of Abdelaziz el-Helu, the candidate of the southern ruling party, Sudan People's Liberation Movement in the governorship vote there in May.
Helu had accused Khartoum (KAR-tum) of rigging the vote he had lost. Khartoum denied the charges, and the biggest international observer group called the outcome of the vote "credible".
Both US President Barack Obama and UN Secretary-General Ban Ki-Moon have urged a ceasefire in the state to defuse tensions before the south becomes independent on July 9th.
The UN Secretary-General will travel next week to South Sudan for its independence celebrations.
A US envoy said that a number of tough issues will not be resolved fully when South Sudan becomes the world's newest country. These include division of oil revenue and the status of the oil-rich Abyei (ab-YAY) region.
The Abyei region is claimed by both north and south Sudan. The northern Sudanese Armed Forces occupied Abyei on May 21, leading to more than 100,000 people fleeing their homes, mainly to the south.
Related stories
Editor:Zheng Limin |Source: CNTV.CN