Watch Video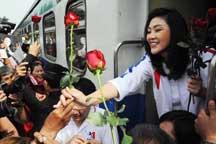 Play Video
Candidates in Thailand's election greeted supporters during the final hours of campaigning on Saturday, as ballot boxes and polling stations were prepared for Sunday's vote.
A final push before the big day. Thai Prime Minister Abhisit Vejjajiva at the final rally before Sundays election. And despite the heavy rain a rapturous welcome from his supporters But the campaign has been an uphill struggle for the ruling Democrat Party, and Mr Abhisit was keen to remind voters, if they don't vote democrat, they could be welcoming back ousted PM Thaksin Shinawatra.
Across town, the supporters of that man also out in numbers. His Sister Yingluck Shinawatra has emerged as the firm leader in the election race. Her party Pueah Thai has led the polls from the start, and the only question seems to be by what margin they will win.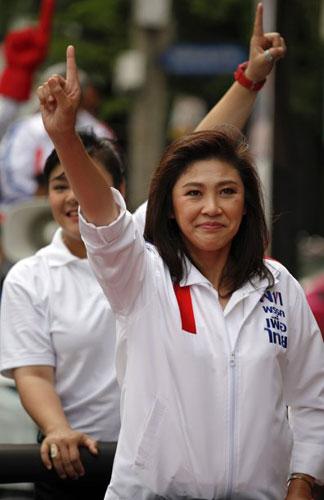 Yingluck Shinawatra, sister of Thailand's toppled
premier Thaksin Shinawatra and the prime ministerial
candidate for the country's biggest opposition Puea
Thai Party, shows her trademark one-finger gesture as
she campaigns through the streets of Bangkok a day
before general elections July 2, 2011.
REUTERS/Damir Sagolj
Despite her complete political inexperience before this campaign began, the next few days could see her become Thailand's first female Prime Minister But she's taking nothing for granted.
Yingluck Shinawatra, Puea Thai, said, "Of course we don't know what the result will be yet, so I'm just waiting to see what the people decide."
With less than 24 hours before voting begins, final preparations at polling stations around the Kingdom. The ballot boxes and polling slips prepared as election officials go through their drills. For the all powerful Election Commision, who have disqualified so many politicians in recent years, reassuring words that the campaigns had been above board.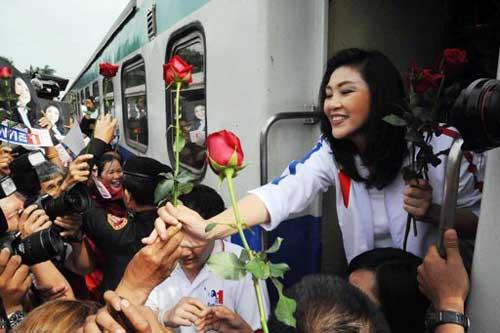 Yingluck Shinawatra, right, opposition Pheu Thai Party's candidate for prime
minister and youngest sister of ousted Prime Minister Thaksin Shinawatra, is
handed with roses while boarding the train during her election campaign rally
in Ubon Ratchathani province, northeastern Thailand Wednesday, June 29, 2011.
(AP Photo)
Prapan Naikowit, Election Commissioner, said, "As far as I know as yet there aren't any complaints about illegal campaigning but if there are, then we would be pleased to examine them".
But many people are concerned that this election could just be the start of more political turbulence…and that it will be some time before we see a clear result.
Bangkok Resident, said, "I think most people will accept the result but there may well be some groups who won't accept it".
Bangkok Resident, said, "Personally I feel the result should be accepted by all sides so that the country can move forward".
Many people do fear that even if Pueah Thai win, they will not be allowed to rule. The Generals behind the coup of 2006, could never let Thaksin return. Others however, feel those pulling the strings behind the scenes, must relinquish their grip.
Editor:Zhang Pengfei |Source: CNTV.CN