Watch Video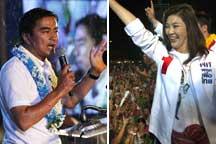 Play Video
Now let's take a closer look at Thailand's Democrat Party and the Puea Thai Party and their candidates.
Founded in 1946, the Democrat Party is the oldest political party in Thailand. The party candidate, also Thailand's Prime Minister, Abhisit Vejjajiva, came into power in December, 2008. Since then, Abhisit's government has had both domestic and diplomatic pressures.
Domestically, the ruling party faces pressure from anti-government protests by the Red Shirts and other parties. The slow development of the export-oriented economy and high unemployment under the global financial crisis are another problem to be solved. Diplomatically, Thailand's border dispute and conflict between Cambodia has influenced its diplomacy.
In this year's election, the Democrat Party has promised a series of populist programmes to try to broaden its support.
The Puea Thai Party was founded in September 2008. It is an anticipated replacement of the former ruling party, the People's Power Party, which was later dissolved by the Constitutional Court.
Its policy pledges include raising minimum wages, universal medical care, a three-year household debt moratorium and tax cuts.
Its candidate is Yingluck Shinnawatra, the youngest sister of ousted former prime minister Thaksin Shinawatra.
Analysts say whether Yingluck's company management experience can be applied to politics still remains to be seen, but others believe her electoral advantages lie in a clean political background and support from Thaksin's supporters. If elected, Yingluck would be Thailand's first female Prime Minister.
Related stories
Editor:Zhang Pengfei |Source: CNTV.CN