Watch Video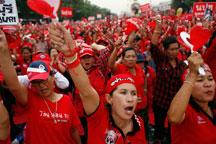 Play Video
Five years after a coup that deposed then-Prime Minister Thaksin Shinawatra, social disruption continues to grow in Thailand. In recent years, opposing public opinions have been drifting further apart. Even the people who started the coup have admitted that given its political after-effects, social problems have been even harder to cure.
In Thailand, red represents the grassroots people. And yellow stands for the urban elite.
Around the two colors formed the Red Shirts and the Yellow Shirts.
The main political arm of the red shirts is the United Front for Democracy, originally a anti-coup organization built after the 2006 coup.
The Red Shirts support former Prime Minister Thaksin, criticize stratocracy, and drum for Thaksinomics. They call themselves progressives.
The political arm of Yellow Shirts is the People's Democratic Union. The Yellow Shirts demonstrably oppose Thaksin, and insist on keeping Thailand's traditional political system, social structure and economic mode. They are generally labelled conservatives.
The confrontation between the two sides escalated to two months of anti-government protests in 2010 which degenerated into violence, leaving 91 people dead and about 1,800 injured.
Although the streets Thailand have been relatively calm since the Thai army dispersed the protesters, the fight between Red and Yellow is far from over. And there is no sign of any substantial reconciliation.
Therefore analysts note that the focus of Thailand's politics is not who takes power but the profound social disruption.
The election on Sunday was also dominated by the competition of Red and Yellow. More than 10 Red Shirts leaders appeared on the list of pro-Thaksin Puea Thai Party in competition for parliamentary seats. Some analysts said the focus of the election is not party but color.
The country's two main parties have proposed strikingly similar policies in their campaign, calling for a national reconciliation. But whether the slogans could be translated into good deeds and bring peace and tranquility to the people remains to be seen.
The fight between Red and Yellow may continue to take place on the streets of the country.
Editor:Zhang Jingya |Source: CNTV.CN