Watch Video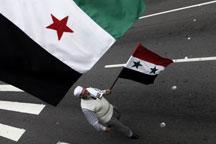 Play Video
The conference of the National Initiative for the Future of Syria attracted participants who see themselves as representatives of the country's "silent majority".
The meeting aims to quell current violence and speed-up the country's transition to a civil, multi-party and democratic state.
Syrian parliamentarian, Mohamad Habash, urged the conference to support President Bashar al-Assad's reforms and engage in dialogue.
He said, "We came here with the clear goal of reinforcing the will of dialogue and supporting the political reforms taken by President Bashar al-Assad. We came to support those reforms and to say to the world that there is a chance for dialogue in Syria. There is a chance for an alternative way aside from the government and the opposition."
Participants say all national opposition figures should return to the country to participate in the process of reforms, stressing that they are looking forward to achieve a logical and civilized amendment of the constitution, the enactment of the multi-party law and an electoral one.
They added all corrupt politicians and security agents should be held accountable, calling also for the need of presenting mechanisms for national reconciliation.
Meanwhile, a Syrian human rights group says tens of thousands of protesters were arrested in neighborhoods on the outskirts of Hama.
The arrests came two days after some 300-thousand protesters in the city staged the largest rally yet in the three-month revolt against President Bashar Assad.
Editor:Zhang Jingya |Source: CNTV.CN