Watch Video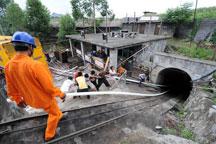 Play Video
In southwest China' Guizhou province, investigators have found what caused the Niupeng Mine flooding accident. 23 people are still trapped in the mine.
The accident happened at 9:30 a.m. Saturday in Pingtang County. Shortly after the accident, mine authorities confirmed 21 workers were trapped. But two others were also found to be missing on Sunday and were believed to be inside the pit.
Preliminary investigations show heavy rainfall and a drainage system breakdown are to blame for the flooding. According to the emergency rescue headquarters, the underground water level briefly dropped by two meters at around 7 p.m. Sunday but then rose again.
At present, the drainage capacity is expected to reach 2-thousand cubic meters per hour as more pumps are installed. However, risks still exist if more water is drained at a faster speed.
The lowering ground water level in the mine will cause surrounding water to flow faster into the mine or even gush out. That will threaten the rescuers underground.
The majority of the trapped miners are from the southern Guangxi Zhuang Autonomous Region. Their family members have begun arriving to wait for news.
Editor:Zhang Dan |Source: CNTV.CN