Watch Video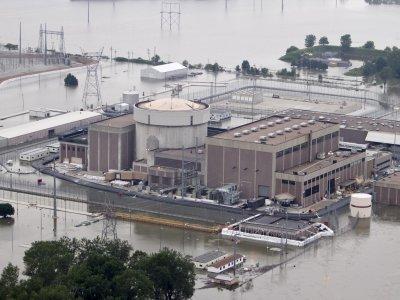 Play Video
The Fort Calhoun plant north of Omaha in the US state of Nebraska has been surrounded by flood water from the Missouri River for over ten days. As worries mount, US authorities have reassured the public the plant is safe.
Could this be another Fukushima? Operators of the Fort Calhoun plant say no. But pictures like this make it hard to believe the official statement that only part of the utilities are flooded.
Rumors have spread that the reactors suffered a complete meltdown and that radioactive tritium is leaking into the river. But plant operator, Omaha Public Power, says all key buildings in the plant are secure. No flooding, no meltdown, no radioactive leakage.
They say the plant has nine power sources, and two backup generators, making a Fukushima scenario impossible. They've received some backing from the independent Union of Concerned Scientists. The group says despite some flooding inside, there are no severe safety problems. Local residents aren't reassured.
A local said, "Yeah, we are definitely worried. That's without question. " Another resident said, "We are always worried, but there's nothing we can do. "
Nebraska has two nuclear plants along the Missouri River. The troubling photos have brought the Fort Calhoun facility into the spotlight.
The plant was switched off in April to add fuel. Since then, there's been a series of incidents. Though officials say the flood is not a major factor, it will certainly make it more difficult to bring the reactor back online, which many speculate will be in August.
Editor:Zhang Dan |Source: CNTV.CN