Watch Video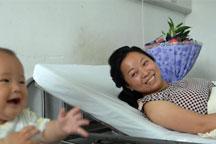 Play Video
A two-year-old girl, who fell out of the window of her 10th-floor home in east China's Zhejiang Province, was miraculously saved by a young woman who just happened to be walking by the building at the time. The rescuer, Wu Juping, is now being lauded as a heroine by Chinese netizens. Zhou Xiran takes a closer look...
Reaching the falling child in time, Wu Juping prevented the girl from hitting the ground at full force.
Wu was just strolling in the neighborhood when she saw the child about to plummet from the building. Kicking off her high-heeled shoes, she ran underneath the child, stretching her arms to the sky.
"I think others would have done the same thing under those conditions. I myself am a mother. If it were my child, I would definitely not want to see my baby fall without taking some action to prevent it. I would try to reach the baby no matter what."
Wu passed out after being hit, and both were rushed to hospital.
The baby girl was found to be bleeding internally and is still in critical condition.
Wu incurred fractures to her left arm, which will require surgery.
A hospital in the nearby city of Fuyang offered to treat Wu for free.
"She could have died or been paralyzed for the rest of her life if the child had hit her head or back. Luckily she caught the baby and got hit in the arm."
Her story was quickly posted on a popular Chinese microblogging site, with photos detailing Wu's heroic efforts.
Thousands have been moved by Wu's actions and are hoping for her and the child to recover soon.
Editor:Li Wanran |Source: CNTV.CN