Watch Video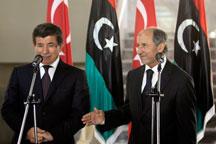 Play Video
Turkey has cut its diplomatic ties with Muammar Gaddafi's Libyan regime and recalled its ambassador. The move came after Turkish Foreign Minister Ahmet Davutoglu visited the eastern rebel stronghold of Benghazi and pledged 200 million US dollars in aid to the rebel National Transitional Council.
Meanwhile, Turkey's banking watchdog is taking over Libyan Foreign Bank's 62 percent sharehold in Turkey's Arap Turk Bankasi A.S. The watchdog said Monday's move was temporary and would last as long as UN Security Council decisions for the freezing of Libya's foreign assets were in place.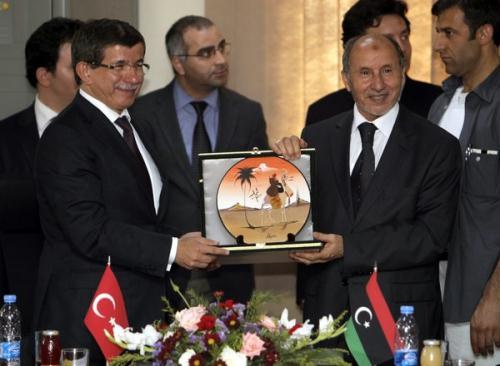 Turkey's Foreign Minister Ahmet Davutoglu (l) receives a present from Mustafa Abdul
Jelil (r), President of national transitional council, after their meeting in Benghazi,
Libya, 03 July 2011. Davutoglu is in Benghazi on one day trip. /tolga bozoglu
Turkey has recognized Libya's rebel leaders as the country's legitimate representatives.
The visit to Benghazi on Sunday by Foreign Minister Ahmet Davutoglu signaled a further policy shift for Ankara.
He also promised them an additional 200 million US dollars in aid. Some of the money is to be used to improve the infrastructure of Benghazi and repair its airport.
Davutoglu met with Mustafa Abdul-Jalil, chairman of the rebels' National Transitional Council, in a heavily guarded building.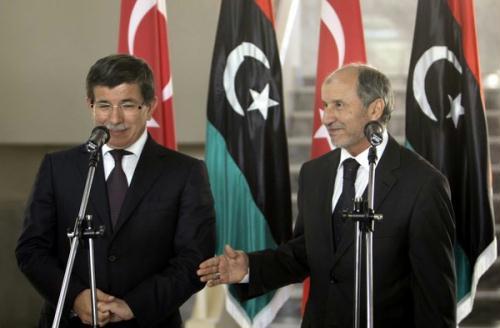 Turkey's Foreign Minister Ahmet Davutoglu (l) and President of Libyan national
transitional council Mustafa Abdul Jalil (r), adress a joint press conference after
their meeting in Benghazi, Libya, 03 July 2011.
Ahmet Davutoglu, Turkish Foreign Minister said "Turkey will support the demands of the Libyan people and the unity of Libya. Therefore we declared a roadmap as you know, and this roadmap will underline the basic principles of such a transformation. And we think that the National Transitional Council is the legitimate representative of the Libyan people to achieve these goals."
Turkey had appeared out of step with Western allies in the early days of the conflict, arguing against unilateral air strikes on Gaddafi's forces, but it later modified its position under the NATO umbrella.
A rising power in the Middle East with close economic ties with Gaddafi's Libya, Turkey has in the past called on Gaddafi to step down and call a cease-fire. It says the two sides must reach a political solution to end a five-month old unrest.
Mahmoud Jebril, Libya's opposition leader is due to visit Ankara this week. And later this month Turkey will host Western powers for the next contact group meeting on Libya.
Related stories
Editor:Xiong Qu |Source: CNTV.CN