Watch Video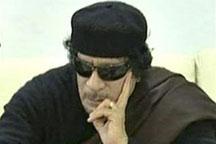 Play Video
Libyan leader Muammar Gaddafi says he will not meet rebels for talks. He made the remarks in an audio address to tens of thousands of supporters in Sirte. Meanwhile, after two days of fighting, Libyan rebels have moved closer to the city of Zli-tan.
Libyan leader Muammar Gaddafi ruled out any negotiations with rebels on the future of the North African nation. He made the comments while addressing a rally in his home town of Sirte on Thursday, east of the capital Tripoli.
Voice of Muammar Gaddafi, said, "I will not speak to them. There will not be any talks between me and them until Judgment Day...they need to talk with the Libyan people, the voice of the free Libyan people, they will respond."
Foreign journalists were taken there by the Libyan government on an official trip. Tens of thousands attended the rally.
Voice of Muammar Gaddafi, said, "So the battle will be decided in favor of the people and NATO can't defeat you, they can't. They will be defeated and run away."
Also on Thursday, rebel fighters have advanced to the outskirts of Zlintan, a town approximately 20 kilometers west of Misrata and 159 kilometers east of the capital Tripoli.
Rebel fighters were busy digging trenches and shelters in their new position after a fierce counter-attack by forces loyal to Muammar Gaddafi had checked their gains on Zlitan.
Rebel Field Commander, said, "We moved forward from Dafniyah towards Zlitan. We are now close to an area called Tuesday Market in Zlitan and God willing we will liberate our people in Zlitan soon from the forces of the tyrant and God willing, we will be victorious."
In the Libyan port city of Benghazi, new rebel recruits have been undergoing training, as opposition forces continue to put pressure on Gaddafi's government.
The recruits say they are determined to fight their way to Brega and then onto Tripoli, as they look to oust the Libyan leader.
Editor:Zhang Pengfei |Source: CNTV.CN