Watch Video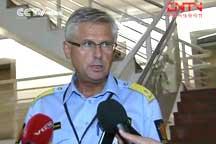 Play Video
A suspect has been detained over a shooting at a youth camp meeting on a Norwegian island that killed at least 10 people. He is also being held in connection to the bombing in central Oslo. The suspect had been seen in Oslo before the explosion there.
Norwegian police on Friday arrested a gunman who they say opened fire at a youth meeting on the island of Utoeya.
The suspect was identified as Norwegian. Police say the suspect may also be connected to the bombing in central Oslo.
Sveinung Sponheim, Acting Police Chief for Oslo, said, "We assume that it's the same person who was observed outside the government buildings, just before the bomb exploded. He was arrested at a location close to Utoeya, a while after. This person was dressed in a sweater with a police emblem, to appear like a policeman. He was wearing the same clothes as the person arrested close to Utoeya. So we believe it could be the same person. He is not employed by the police and has never been employed by the police."
The attacks were the peaceful nation's worst violence since World War II.
Oslo police said the gunman opened fire on Utoeya island, where the youth wing of the Labour Party was holding a summer camp for hundreds of youths.
The Norwegian security authorities say the final death toll from the shooting can be higher than early reports.
Police are still trying to get an overview of the camp shooting and are not sure whether there was more than one shooter.
Editor:Zhang Pengfei |Source: CNTV.CN