Watch Video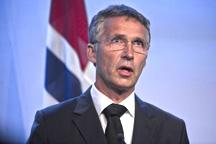 Play Video
Norwegian Prime Minister, Jens Stoltenberg, has outlined his government's response to the country's worst attacks since World War Two.
He vowed terrorists will not "destroy" Norway, adding that the priority for his government is to ensure that everyone affected by the attack can get necessary support.
He noted that the government would investigate the motive behind the attack and do its best to prevent such a tragedy happening again. Stoltenberg also confirmed that the police have arrested 32-year-old Norwegian Anders Behring Breivik from the shooting and bombing. But the police have not released his name.
The Prime Minister paid tribute to those who had been killed and the emergency workers who tried to save them. Stoltenberg said the messages of support from around the globe had helped the country.
He urged intelligence agencies across the world to work together. He said the country is experiencing deep sorrow at the moment, but it's crucial for the people to stay united and help each other. He said the military has been assisting the police to maintaining peace and stability at this juncture.
More on the attacks:
At least 80 killed in Norway massacre
Police have arrested the gunman, who wore a police uniform during the massacre and has suspected links to right-wing extremism. <Full story>
Major blast rocks Norway PM's office
A huge explosion went off near government headquarters in the Norwegian capital Oslo. Norway's national broadcaster NRK says at least seven people have been killed and two badly injured. <Full story>
Death toll rises to 84 in Norwegian island shooting
OSLO, July 23 (Xinhua) -- The death toll rose to 84 in the shooting spree Friday at a youth camp on the island of Utoeya, some 40 km west of Oslo, police confirmed on Saturday. <Full story>
At least 87 killed in twin attacks in Norway, first suspect arrested
OSLO, July 23 (Xinhua) -- The death toll of the twin attacks Friday in Norway may surpass 87 after more victims were discovered in the shooting spree two hours after a bomb explosion that ripped buildings in the heart of Norway's government. <Full story>
At least 10 killed after shooting near Oslo
OSLO, July 22 (Xinhua) -- Local police had confirmed that at least 10 people were killed in a shooting attack in the Buskerud county, near Oslo, the capital, Norwegian News Agency reported later Friday. <Full story>
Domestic & Global reactions:
PM calls on Norwegians to stay together after deadly attacks
OSLO, July 22 (Xinhua) -- Norwegian Prime Minister Jens Stoltenberg on Friday called on its people to stay together after two deadly attacks, in which at least 17 people were killed earlier in the day. <Full story>
General Assembly president strongly condemns violence in Norway
UNITED NATIONS, July 22 (Xinhua) -- UN General Assembly President Joseph Deiss on Friday expressed shock over the deadly attacks in Norway and strongly condemned these attacks. <Full story>
Obama calls for world cooperation to fight terrorism after Oslo attacks
WASHINGTON, July 22 (Xinhua) -- U.S. President Barack Obama on Friday sent condolences to Norway in wake of the deadly bombing and shooting in its capital city of Oslo, calling on the world to work together to fight terrorism. <Full story>
Editor:Zhang Pengfei |Source: CNTV.CN