Watch Video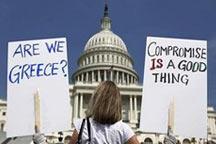 Play Video
White House officials and Republican leaders scrambled on Sunday to reassure global markets the United States would avert a debt default. But the two sides gave no sign they were moving closer to a deal.
The White House warned that there would be a "few stressful days" ahead for financial markets, with the deadline to lift the 14.3 trillion U.S. dollars of borrowing limit now only nine days away. The two sides are deadlocked over Republicans' demands for a short-term debt-limit increase.
U.S. House Speaker John Boehner (R-OH) leaves after his news conference about the debt limit on Capitol Hill in Washington July 22, 2011.
The Democrats insist on a longer-term extension of the borrowing limit that would carry the country through the presidential election in November 2012.
Economists say if congress fails to raise the debt limit before the deadline, it will cause another global financial tsunami.
Related stories
Editor:Li Wanran |Source: CNTV.CN